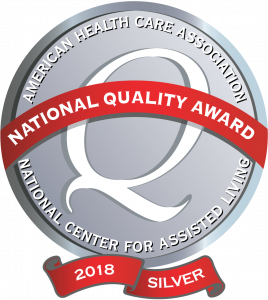 Whether you need a short-term rehab nursing home or long-term care, Sunrise Terrace can help.
Our mission is to provide Health, Hope and Happiness to all we serve.
During your short-term rehabilitation stay at Sunrise Terrace Nursing & Rehabilitation Center you will be provided a furnished, private room that includes an electric bed and chair, flat-screen T.V. with cable, wireless internet, your own thermostat, plus a cozy dining area where you can receive private dining service from our professional staff.
To date, over 80% of our patients at Sunrise Terrace have returned to their homes and our #1 goal is to get you back home, too! Click here to learn more.
Our dedication to individualism and commitment to exceptional care help create the highest possible quality of life for our residents.
We specialize in these Services and Amenities:

"Get Well . . . Go Home" is short-term rehab care where more than 80% of our patients return home
"Resident Directed Care" means choices. Our residents set their own schedule and lifestyle
Consistent CNA to resident care assignments
Restaurant Style meal service & open dining times
Visit CMS's Nursing Home Compare website
Remember, before choosing a location following your recent hospitalization due to illness, injury, or surgery visit CMS's Nursing Home Compare website. The federal government's Centers for Medicare and Medicaid Services (CMS) assigns a current rating to all nursing homes that participate in providing these services.